Being a survivor to domestic violence and witness to the experience of breast cancer taught me tomorrow is never guaranteed. However, I never imagined I would go through such an awakening through the lives of any of my children.
Every mother who has ever had a child goes through imagining and planning what her ideal birth experience will be like. Having had three healthy, full term and natural deliveries, I found myself expecting my fourth. I had been a bit of an age gap this time around. My first three children were born within three years and were already 6, 5 and 3 years old when I learned I was pregnant with my fourth child.
Doctors treated me as an "expert baby maker" which I felt was disrespectful and very unprofessional. I followed routine prenatal care, maintained a healthy diet and worked up until the end of my pregnancy. The excitement and anticipation grew for my husband, children and myself as the months passed.
January 18, 2010 I went in for a checkup. We went as a family this time since the children had a day off from school and my husband wasn't scheduled to go to work until later that afternoon. We were excited. With only four days left till my due date we were sure we would be welcoming our little bundle of joy at any moment.
I was called back to have my weight and blood pressure checked as usual, then the doctor started checking the baby's heartbeat. Yet this time, the doctor shuffled about a bit longer as silence filled the air. I could not believe what was happening and I was even more shocked at how cold the attending doctor reacted when he shared the news that my child was no longer living.
How could that be possible? I was full term, due in four days and I was just in the week before and everything was fine. What was he telling me?!
What should have been a day of celebration ended up being more like a slow-motion nightmare. My world was turned upside down and shattered at the same time. We had to say goodbye to our daughter before even saying hello. We planned for a funeral instead when we had been planning for months on how we would welcome her home.
My daughter may not be presently physically, and is considered to have been stillborn in medical terms. I like to think of her as born sleeping, in a peaceful state, awaiting Christ's second return. But I also agree that she was still born, as her memory lives on within and I think of her daily.
While I lost something most precious to me, I gained a new sense of an outlook on life. I've heard "tomorrow is never promised" quoted repeatedly, I never realized how much it truly applies.
I have come a long way thanks to love and support from my husband, children, and other mothers who have survived the loss of a child. I learned loss is not something you get over but something you learn to live with. I live life one day at a time, remembering the inspirational scripture found in Ecclesiastes 3:1, "To everything there is a season, and a time to every purpose under heaven:" (KJV)
For pregnancy and infant loss support visit Faces of Loss, Faces of Hope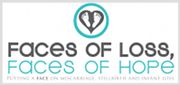 .
God bless,